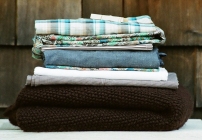 For over 22 years I have been involved with the fashion and interior design industries: from working at the merchandising dept of DKNY, to assisting at a high-end NY interior design studio, to styling and producing fashion, beauty, food, lifestyle and interior photoshoots for both Italian and American magazines. And for 19 years, I was a senior fashion editor for Italian based, international magazines, Collezioni: Collezioni Donna, Collezioni Haute Couture & Bride, Collezioni Accessori, Collezioni Uomo, Collezioni Bambini and Collezioni 0/3 Baby.

In 2008 I started AFFINITA' MODERNE, creating and sourcing soft goods. I custom make bedding, table and home linens specific to each project's desired goal and I outsource ready-made bedding and home goods from other American or European luxury brands, for both interior design firms and private clients.

Although AFFINITA' MODERNE is based in New York City, I travel anywhere. I often work from a studio in Genoa, Italy and take on projects in the French/Italian Riviera and Northern Italy.

Write for questions, to request more information and to hear what I can do for you.